Download YouTube Video - GreaseMonkey UserScript
Download YouTube Video - GreaseMonkey UserScript is a script that will add a link to all the videos in YouTube that will let you download the video to your Hard Disk.
Have you ever seen a cool video on YouTube that you wanted to download? A lot of people wanted to do this - unfortunately YouTube did not provide this option(none that I know of, anyway). So scripts were created that will do this for you. These scripts include...
And now...
A GreaseMonkey Script
A Bookmarklet
Install Script
To install, you must have the greasemonkey extension for firefox browser. If you have it, click the link and choose "Install".
Screenshot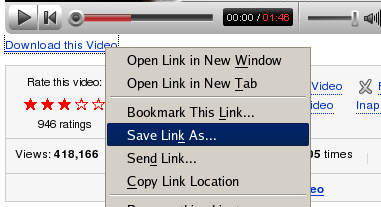 Bookmarklet
If you are using the bookmarklet version of this script, follow these instructions to download a video...
Go to the page with the video(Eg. Internet Help Desk)
If you have the FlashBlocker extension, you should click on the 'f' to enable the video.
Now run the bookmarklet - this will insert a link called 'Download this Video' below the video.
Right click and chose 'Save Link As...'
Make sure that the file you are saving the video to has a flv extension.
blog comments powered by

Disqus